Stress states and physical properties
along the megathrust plate boundary
at the Nankai Trough
By:
Hiroko Kitajima
Texas A&M University
When:
Friday, 20 February, 10:30 a.m. to 11:30 a.m.
Join us for coffee beginning at 10:00 a.m.
Where:
Seminar Conference Room, 10100 Burnet Road, Bldg 196-ROC, Austin, Texas 78758
Click for a Live Broadcast.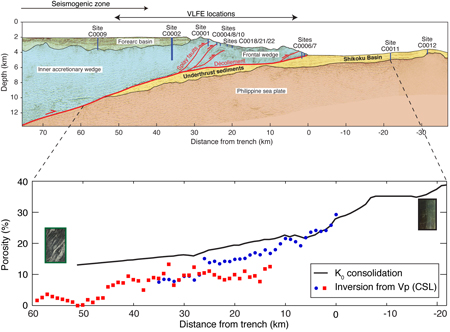 Abstract
Understanding the mechanics of plate boundary earthquakes requires a sound investigation of in-situ stress condition and deformation processes. It is critical to well characterize not only the in-situ stress and pore pressure condition, but also an absolute strength and mechanical behavior at that stress condition. Porosity reduction, compaction, of the subducting sediments play an important role in the deformation in the shallow portion of subduction zones because the deformation mode (either brittle or ductile) and strength of porous rocks are largely dependent on both porosity and pressure. In this talk, I will present results of triaxial deformation experiments on (1) core samples currently subducting at the Nankai Trough and (2) prism samples from the Shimanto complex, which have been subducted, underthrusted, and underplated along the ancient plate boundary. Based on the experimental results, I will discuss the stress state and strength along the plate boundary.