Investigating the Seismic Structure
Beneath the Northern Transantarctic Mountains
By:
Samantha Hansen
University of Alabama
When:
Friday, 3 April, 10:30 a.m. to 11:30 a.m.
Join us for coffee beginning at 10:00 a.m.
Where:
Seminar Conference Room, 10100 Burnet Road, Bldg 196-ROC, Austin, Texas 78758
Click for a Live Broadcast.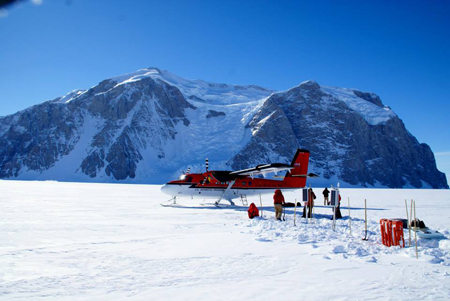 Abstract
With a length of ~4000 km and elevations up to ~4500 m, the Transantarctic Mountains (TAMs) are the largest non-compressional mountain range on Earth. The lack of compressional structures within the TAMs has led to considerable debate regarding their origin, and numerous uplift mechanisms have been proposed. Understanding the uplift history of the TAMs is not only crucial for assessing the geodynamic development of Antarctica but also for understanding the glacial and climatic evolution of the continent. To further assess the structure beneath the northern TAMs, the Transantarctic Mountains Northern Network (TAMNNET), a 15-station seismic array, was deployed in a previously unexplored portion of the mountain range in November-December 2012. Using data collected by this network over the past several years, numerous studies are currently underway to assess the crustal and lithospheric structure and to interpret the TAMs geologic history. This presentation will highlight the most recent TAMNNET findings and their importance in understanding the complex tectonic structure of the TAMs.