JFAST:
Results from the Rapid Response Drilling Expedition
to the Japan Trench following the M9.0 Tohoku-oki
By:
Christie Rowe
McGill University
When:
Friday, February 21, 2014, 2:00 p.m. to 3:00 p.m.
Join us for coffee beginning at 10:00 a.m.
Where:
Seminar Conference Room, 10100 Burnet Road, Bldg 196-ROC, Austin, Texas 78758
Host:
Laura Wallace, UTIG
Click for a Live Broadcast.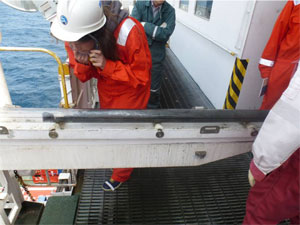 Abstract
The March 11, 2011 Tohoku-oki earthquake displayed unusually large slip to the trench, causing a lateral displacement of about 50 m at the trench. This extreme seafloor displacement generated a devastating tsunami. This is the first time in the history of scientific ocean drilling that it has been possible to drill into the highest slip area of a plate boundary fault which has recently slipped in a great earthquake. International Ocean Drilling Program Expedition 343 aboard Japanese Drilling Vessel Chikyu drilled a site ~200 km east of Sendai, just landward of the trench axis where the water depth was ~6.9 km. We successfully drilled to the plate boundary fault in three holes, intersecting it at ~820 m below the sea floor. I will present the onboard observations (Logging-While-Drilling data and core observation) which show the contrast across the plate boundary from the intensely faulted, tightly folded wedge sediments to the sub-horizontal, older sediment of the down-going plate.
The plate boundary appears localized on an imbricate sliver of the basal smectite-rich pelagic clay from the incoming section, while the mechanically stronger, more siliceous overlying strata have been off-scraped and deformed in the wedge. Microfossil ages, organic stratigraphy and trace element stratigraphy require that the frequency of faults in both the accretionary wedge and the footwall is on a similar order to the sampling frequency (one every few meters). Transmission electron microscopy of the discrete slip surfaces collected from the vicinity of the plate boundary show sharp amorphous layer which are suspected to be pseudotachylyte.