Oceanographic constraints on ice shelf basal melting,
and some speculations on the coupled response
By:
Christopher Little
Graduate Student
Princeton University
When:

Friday, April 16, 2010, 10:30 a.m. to 11:30 a.m.
Join us for coffee beginning at 10:00 a.m.

Where:

Seminar Conference Room, 10100 Burnet Road, Bldg 196-ROC, Austin, Texas 78758

Host:

Charles Jackson, UTIG
Abstract
Observations and model simulations often cite ice shelf basal melting as the trigger for recent ice sheet thinning and acceleration. Yet the impact of basal melting is indirect: changes in stress driven by the ice shelf response to melting must be transmitted to inland ice. A more detailed understanding must incorporate the spatial distribution of melting perturbations, as it is increasingly apparent that melting is non-uniform and that its distribution is critical to the glaciological response.
In this presentation, I will highlight results from idealized simulations that isolate key processes influencing the localization of ice-ocean heat fluxes. In conjunction with rotation and oceanic stratification, ice shelf morphology exerts control on both deep and shallow (near-ice shelf) circulation and thus the locations of melting. Melting rates in "warm" ice shelves exhibit a strong dependence on ice shelf basal slope. A slope-dependent parameterization of basal melting indicates that rapid, localized changes in ice shelf shape drive grounding line retreat on longer timescales.
Localized processes under ice shelves add complexity to attribution studies, yet they may also guide process models, observations, and large-scale modeling, all of which are required to interpret recent ice sheet changes and to make projections of sea level.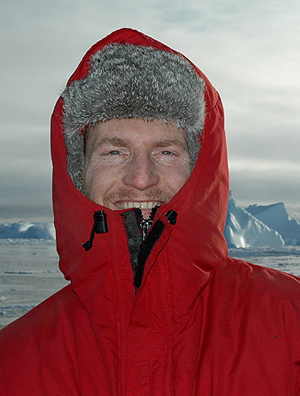 Chris Little.