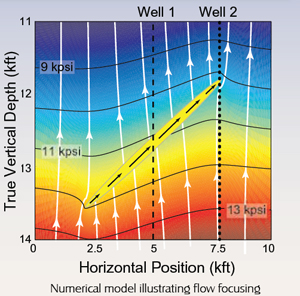 UT GeoFluids is managed by the University of Texas Institute for Geophysics (UTIG) and is currently supported by 10 energy companies at a cost of ~ $50,000/year. We are at the start of a 10-year effort entitled GeoFluids2020. Our results are used to predict pressure and stress, design stable and safe drilling programs, and predict hydrocarbon migration and entrapment. We study the state and evolution of pressure, stress, deformation and fluid flow through experiments, models, and field study:
Experimental: We analyze fabric, acoustic, electrical, and material properties of mudrocks : 0.1-100 MPa.
Poromechanical Modeling: We develop and apply coupled models to link realistic rheologies, deformation, stress (shear and normal), and pore pressure.
Field Study: We analyze pore pressure, stress, and deformation in both conventional and unconventional basins.
We produce innovative concepts and analysis workflows that couple geology and geomechanics to predict and interpret pore pressure and stress in the subsurface. We have
developed online software that predicts reservoir pressure,
released databases and material models that describe mudrock material behavior, and
developed workflows to predict stress in salt systems and thrust belts.
Our new research aims to develop a unified approach that incorporates stress dependency, creep, mineralogical transformation, and loading path to illuminate the state and evolution of pressure and stress in basins. We are applying this approach to develop two and three-dimensional whole earth models that improve well design, real-time drilling, borehole stability, reservoir simulation and seismic imaging.
Click here for more details about the Consortium, or contact the Consortium Co-Directors, Dr. Peter Flemings and Dr. Jack Germaine.
UT GEOFLUIDS 2020 ANNUAL MEETING: Thank you to everyone who attended! Consortium members may find the recorded presentations and abstracts on the consortium member pages.
January 7-11, 2020: The UT GeoFluids team gathered in Marble Falls, TX, for our annual writing workshop in preparation for the UT GeoFluids Annual Meeting in February. The team spent long days working on talks, discussing research, and preparing for the upcoming meeting.
December 9-13, 2019: Maria Nikolonakou attended AGU's Fall meeting and gave a talk on "Mechanisms generating fluid overpressure at the trench of subduction zones and implications for megathrust weakening".
December 3-6, 2019: Maria Nikolonakou attended the 2019 GCSSEPM Foundation Perkins-Rosen Research Conference in Houston, TX, and presented her talk on "Controls on styles of extensional diapir rise and fall".
November 7-8, 2019: Jean Joseph d'Hooghvorst, Maria Nikolinakou, and Mahdi Heidari contributed to the 31st annual review meeting of the Applied Geodynamics Laboratory (AGL) at the Bureau of Economic Geology in Austin, TX. Jean Jospeh presented a talk on the processes above a rising diapir in regional shortening.
View all UT GeoFluids publications on the publications page
Members can access copies of publications at the Member Area Publication Site
2019
Hooghvorst, J. J., Harrold, T. W. D., Nikolinakou, M. A., Fernandez, O., and Marcuello, A., 2019. Comparison of stresses in 3D vs 2D geomechanical modelling of salt structures in the Tarfaya basin, West African Coast; Petroleum Geoscience; https://dx.doi.org/10.1144/petgeo2018-095
Nikolinakou, M. A., Goteti, R., and Heidari, M., 2019. Mechanics of salt systems: state of the field in numerical methods; Petroleum Geoscience; https://dx.doi.org/10.1144/petgeo2019-086
Pinkston F.W.M., Flemings P.B., 2019. Macondo well pore pressure regression and implications for the Deepwater Horizon blowout; Scientific Reports https://dx.doi.org/10.1038/s41598-019-42496-0
Casey B., Reece J. S., Germaine J.T. 2019: One-Dimensional Normal Compression Laws for Resedimented Mudrocks; Marine and Petroleum Geology; https://dx.doi.org/10.1016/j.marpetgeo.2019.02.023
UT GeoFluids produces innovative concepts and analysis workflows that couple geologic loading and fluid flow to predict pore pressure and stress in the subsurface. These include:
UT Centroid: online software to predict reservoir pressure as a function of reservoir geometry and mudstone permeability.
Seismic Pressure Prediction Integrated with Geomechanical Modeling: a highly innovative workflow integrating seismic velocity data with geomechanical modeling to predict pressure and the full stress tensor.
UT-FAST-P3: An online, educational tool allowing users to predict and compare pore pressure using the full stress tensor while demonstrating why it is important to go beyond vertical effective stress (VES) models.