Coral Records of Paleo-Uplifts in Southwest Pacific Forearcs:
Recurrence Times, Geography of Uplift, and Uplift Rates Varied Drastically Over a Few Thousand Years
By:
Fred Taylor
UTIG
When:
Friday, 26 September, 10:30 a.m. to 11:30 a.m.
Join us for coffee beginning at 10:00 a.m.
Where:
Seminar Conference Room, 10100 Burnet Road, Bldg 196-ROC, Austin, Texas 78758
Click for a Live Broadcast.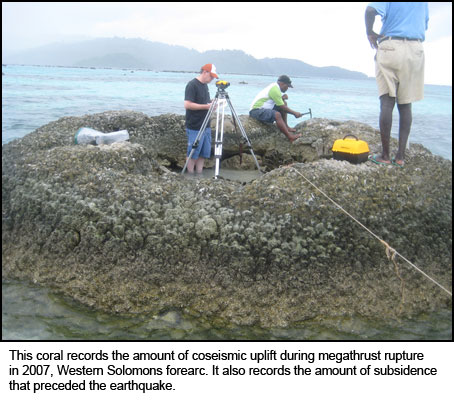 Abstract
Our established concepts regarding recurrence intervals and geography of megathrust ruptures tend to assume that there must be significant orderliness and regularity in recurrence intervals and rupture surfaces. This may turn out to be true at some subduction zones. However, coral paleogeodetic records from the Western Solomons and central Vanuatu forearcs conflict with this idea. The intervals between large uplifts are quite variable. Maybe the very idea of a recurrence interval is misleading. At both the Solomons and Vanuatu forearcs, recent coseismic vertical deformation geography conformed to expectations for elastic strain release on a megathrust of geologically reasonable orientation. Vertical interseismic elastic strain should be roughly the mirror image of coseismic elastic strain release. However, we find considerable heterogeneity in the geography of paleo-uplift amounts and ages compared with 2007 coseismic uplift. Could it be that the paleo-earthquakes were so different than the modern ones? Not likely. The subsidence geography preceding the 2007 megathrust rupture in the Solomons is significantly different from the 2007 coseismic uplift distribution, indicating that uplift distribution is strongly influenced by interseismic processes (i.e. uplift results from a deficit in subsidence rather than an excess of uplift). Therefore, we expect that the 2007 uplift pattern will be modified before the next large interplate event and the same probably happened with previous coseismic uplifts. In fact, very few paleogeodetic records from any outer forearcs exist anywhere, in large measure due to the fact that most forearc areas overlying the seismogenic zone are underwater. Even if these SW Pacific locations turn out to be somewhat special cases at least we can recover the chaotic Vanuatu and Solomons paleogeodetic histories, which puts us leagues ahead of what can be done in most forearcs. And just maybe they are not really all that different from other arcs when the final score is posted.