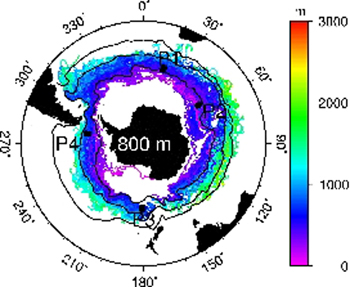 Abstract
Mixing generated by mesoscale eddies is believed to play an important role in the transfer of water masses and tracers across the Antarctic Circumpolar Current (ACC). In turn, these water mass transfers are thought to control the global overturning circulation and inter-ocean exchange. However, large uncertainty exists in the representation of Southern Ocean eddy mixing processes in standard climate scale ocean models.
One fundamental question is whether the commonly used eddy diffusivity model used to parameterize Southern Ocean eddy mixing processes is appropriate. Moreover, if so, the spatial distribution of eddy diffusion coefficients is still under debate, and different distributions are consistent with different hypotheses for eddy diffusivity distributions.
Here, I will review the current understanding and open questions of eddy dynamics and mixing in the Southern Ocean. In particular I will show results from the dispersion of numerical floats released in the core regions of the ACC in a high resolution ocean model. Resulting Lagrangian diffusivity distributions and their relation to eddy kinetic energy and mean flow will be discussed in relation to existing hypotheses about eddy mixing.